The work of planting trees in Castilla y Léon has been completed as part of the LIFE BACCATA project
In the first days of April, it began the creation of two arboretums through plantations in places of special interest and high tourist influx, in addition to improving and adapting an existing arboretum. The goal is to promote knowledge about the species that make up habitat 9580* Mediterranean Taxus baccata forests and to disseminate the challenges faced by them in recent years with regard to their conservation. Moreover, it aimes at contributing to the perpetuation of genetic resources.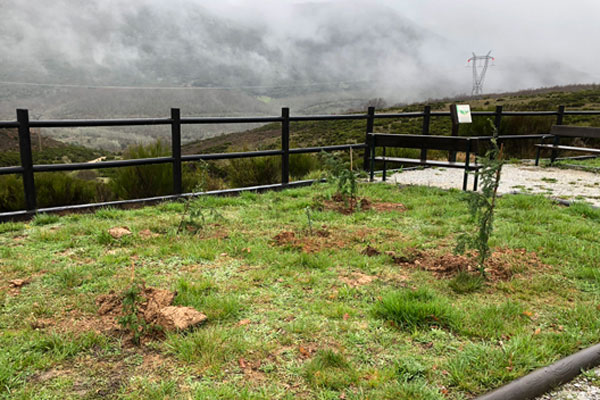 Photo. Repositioning of the hills in the arboretum of the Tosande Route (Palencia)
This type of action is included in Action C6 of the LIFE BACCATA project: "Conservation of the genetic diversity of Taxus baccata".
The two new arboretum are located in Mirantes de Luna, in the SAC "Valle de San Emiliano", León, and the other in the province of Burgos, specifically in Ojo Guareña, next to the Cueva - Ermita de San Bernabé.
On the other hand, several species have also been replenished in the arboretum next to the car park on the Tejeda de Tosande Street, in Palencia.
For the plantations, a mixture of different species characteristic of each area and present in the habitat "Mediterranean Taxus baccata forests" (yew, holly, hazelnut, rowan, birch, oak, beech, maple, etc.) have been used, proceeding to their execution by hand. Subsequently, individual protectors have been placed to protect the plants from domestic and wild herbivores.
The installation of the informative poster will be carried out in the coming months.
Photo. Typical plant habitat in Ojo Guareña